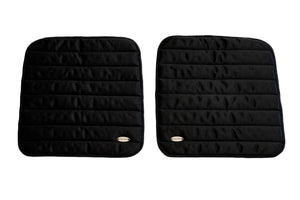 Sprinter 2002-2006 Rear Door Pair
Regular price $300.00 Sale
Tired of your nice big windows burning up your interior? Struggling to keep your van warm during the winter? These insulating window curtains are the solution for your rear door windows! We use a special insulation layer that works wonders to maintain your van's interior temps. The dark charcoal material and precision fit also give your van windows a full blackout. No more waking up at the crack of dawn because the sun didn't get the memo you were sleeping in!
Magnets are sewn into the binding along each side and latch directly to the exposed metal around each window.
If you have paneling lining the windows of your van (sometimes called "passenger style") or aftermarket windows, please email our customer service at: adventurevanco@gmail.com for additional mounting options.  

Each rear door curtain is specifically cut to fit its specified window.  Please check to make sure each item in your cart corresponds to the correct window.
Insulating Window Covers are MADE TO ORDER & TAKE 2-3 WEEKS TO CRAFT.  We try to keep at least one of every item in stock and some orders may ship sooner.  ORDERS ARE PACKED ON THURSDAY NIGHT AND SHIP EVERY FRIDAY!  If you have questions about production times or need items by a certain date, please send us an email at AdventureVanCo@gmail.com
These are ADF Sprinters exclusive parts. Designed and manufactured in house and under strict quality control.